Nd:YAG, Yb:YAG, Nd:YVO4, Nd:GdVO4, Nd:YLF and Nd:KGW
Laser Crystals Available from Stock [Detailed Datasheet, PDF]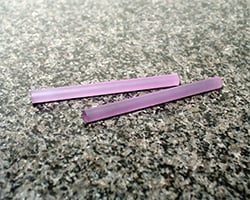 Because ALPHALAS produces a large variety of solid-state lasers, most popular types of laser crystals with various dimensions are available from stock. These include Nd:YAG, Yb:YAG, Nd:YVO4, Nd:GdVO4, Nd:YLF and Nd:KGW.
The end faces are available in normal and Brewster-cut configurations. We can also deliver other types of laser crystals like Ti:Sapphire, Nd:YAP, Cr and Ce doped LiSAF, LiSGaF, LiCAF as well as diffusion-bonded crystals.
Laser crystals with customer-specific dimensions are available with short delivery times.
The laser crystals from ALPHALAS meet the most stringent requirements with regard to polishing, wavefront distortion and high damage threshold of the dielectric coatings.
Please do not hesitate to contact us.
Nd:KGW
A new efficient laser medium: Nd:KGW.
Nd:KGW [Detailed Datasheet, PDF]
Composite Laser Crystals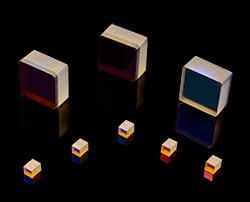 The composite (or diffusion-bonded) laser crystals consist of two crystals that are fixed together to form a monolithic design. The most popular combination includes Nd3+:YAG as the laser medium and Cr4+:YAG as the passive Q-switch. Most of the composite laser crystals like Nd3+:YAG + Cr4+:YAG, Yb3+:YAG + Cr4+:YAG, Nd3+:YAG + V3+:YAG, Er3+:YAG + YAG, Nd3+:YVO4 + YVO4 are available from stock or with customer's specifications with AR, PR or HR coatings.
Non-Planar Ring Oscillators (NPRO)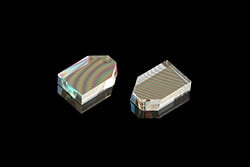 The non-planar ring oscillator, invented more than three decades ago is still the "golden standard" for the highest stability and spectral purity of single-frequency radiation from lasers. The monolithic design and the unidirectional action offer unique features and is used as the seed laser for the laser systems in the gravitational waves detectors.
Using high-quality Nd:YAG material and optimized design, ALPHALAS manufactures NPROs that are implemented in the single-frequency lasers offered by our company. The NPROs are also offered as a ready-to-use single component for development and manufacturing purposes. In addition to the standard design for operation at 1064 nm, customized NPROs based on Nd:YAG can be offered for operation at 946 nm, 1320 nm and using Yb:YAG crystal, single-frequency radiation can be generated at 1030 nm.