Featured Products
Ultrafast Photodetectors --- NEW MODELS ---

Our bestselling Ultrafast Photodetectors. Rise times starting from 15 ps! Spectral ranges from 170 to 2600 nm! From stock at competitive prices. Special discounts for research & academia!

Our PULSELAS®-P lasers are the most powerful subnanosecond Q-switched DPSS lasers commercially available. They are based on an extremely compact microchip design and feature unsurpassed mechanical stability.
Home
NEW: High-Energy Picosecond Laser

The PICOPOWER™- RG1-1064-10K picosecond laser delivers ultra-short pulses with high energy, high peak and average power at 1064 nm wavelength with variable repetition rates from single shot to 10 kHz. It features a unique synchronization capability with unsurpassed 3.5 ps jitter for pulses on demand. Optional wavelengths at 532 nm, 355 nm and 266 nm are available collinearly or as multiple output beams. The distinctive features of this laser are pulse-on-demand triggering and peak power of more than 2 MW with less than 30 W electrical power consumption. It is an ideal choice for numerous applications like nonlinear optics, ultrafast spectroscopy, time-resolved fluorescence and many others.
NEW: Single-Frequency High-Power Nanosecond Laser

The PULSELAS™-A-1064-10W-SF is a powerful, diode-pumped, single-frequency nanosecond laser which delivers 1 mJ pulse energy at 10 kHz pulse repetition rate. It operates at the fundamental wavelength of 1064 nm. Frequency conversions to 532 nm, 355 nm and 266 nm wavelengths are optional. The distinctive features of this laser like near-transform-limited spectral width, simultaneously high average and peak powers, diffraction-limited output beam, etc. make it an ideal choice for numerous scientific applications like optical meteorology, interferometry, high-resolution laser spectroscopy, fiber communications, single pulse holography and many others.
Picosecond Diode Lasers with Driver

The ALPHALAS PICOPOWER™-LD Series of Picosecond Diode Lasers with Driver are available with the following standard wavelengths: 375, 405, 450, 488, 510, 635, 670, 785, 850, 976, 1030, 1047, 1053, 1064, 1310, 1550 nm as well as more than 60 other customer-specific wavelengths in the range of 375 nm - 2300 nm! Laser pulses as short as 12 ps and more than 2 W peak power for specific wavelengths. Exchangeable laser heads.
Standard driver models with 20, 50 and 100 MHz with a frequency step of only 1 Hz.
Ultrafast Photodetectors - New Models Available

New models of ultrafast photodiodes have been released by ALPHALAS GmbH. The new photodetectors expand the product range towards faster rise times as short as 15 ps and wider spectral ranges from 170 to 2600 nm.
New: Greatly improved HF performance of ultrafast photodetectors in the wavelength range 800 to 2600 nm (Press Release, PDF)
CCD Line Cameras - New Advanced Model Available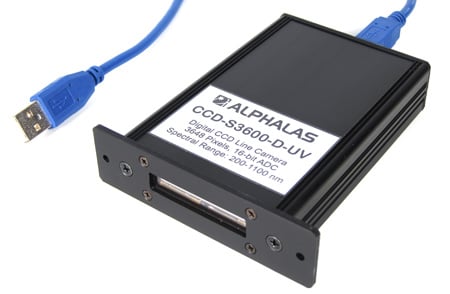 ALPHALAS GmbH has released a new advanced high-speed digital CCD line camera.
The CCD-S3600-D(-UV) includes a high-sensitivity linear CCD sensor array with 3648 pixels and UV-option, high-precision 16-bit ADC, large 32 MB of fast DDR2 onboard RAM, USB 2.0 plug & play, free drivers & applications for LabVIEW & C++ and many more unique features.
ACQUISITION & VIEWER SOFTWARE for Windows is now included for FREE!
Our Products: Lasers, Optics, Electronics
Our company offers you a wide range of products in the fields of lasers, optics and laser-related electronics - from complex laser systems to simple components.

In our Products Section you will find:
Diode-Pumped Solid-State (DPSS) Lasers - from UV to IR, from CW to fs

Modelocked DPSS Lasers (100 fs - 100 ps)
Q-Switched DPSS Lasers (microchip, <1 ns, >1 mJ)
CW DPSS Lasers (single frequency, 532 nm, 1064 nm)

DPSS Laser Kits for Education & Research
Ultrafast Photodetectors (30-500 ps, 170-2000 nm)
CCD Line Cameras (high-sensitivity, USB 2.0 & LabVIEW drivers)
Laser Diode Drivers & TEC Controllers
Pockels Cell Drivers
High-Voltage Nanosecond Generators
Unique Tunable Z. O. Waveplates (150-7000 nm, 1-21 µm, best for femto lasers)
Laser & Nonlinear Crystals
Optical & Laser Components
... and many other interesting products!
In contrast to many other companies we offer you more flexibility and customer specific product design at reasonable prices. Our products are based on 30 years of leading research and experience. Many of them feature unique parameters you will not find anywhere else on the market.
For details on our products and competitive prices please contact us .
Laser Custom Design & Custom Solutions
Laser Contract Research & Development
Laser Consulting
Customer Oriented
Unique Parameters that cannot be found anywhere else on the market
Flexibility
Fast Delivery for Items in Stock
Contact Us Now for Quotes, Prices, Inquiries, Questions & Ordering!
Please do not hesitate to contact us for quotes, prices, inquiries, questions about our products, customer-specific parameters and ordering:
E-Mail: [email protected]
Phone: +49-551-7706147
Research & Academia
Universities, research & academic institutions belong to our most important customers. We offer many products (also customer-specific) to meet your special needs. Contact us now for more information & special discounts!

Site Statistics
Visitors: 3997054