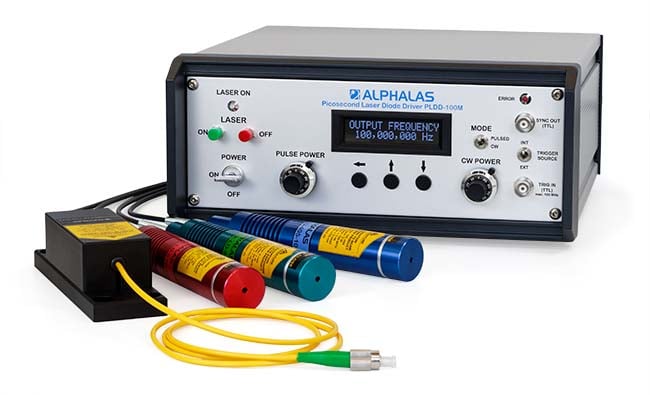 The ALPHALAS PICOPOWER™-LD Series of Picosecond Pulse Diode Lasers with Driver are generating short laser pulses with wavelengths ranging from 375 nm to 1550 nm as well as custom-specific wavelengths. Our picosecond pulse diode lasers deliver pulse durations below 40 ps and peak powers can exceed 3 W. Repetition rates range from single shot up to 80 MHz.

The following standard wavelengths are available:
375, 405, 450, 488, 635, 670, 785, 976, 1030, 1064, 1300, 1550 nm

Picosecond Pulse Diode Lasers with Driver: PICOPOWER™-LD Series [Detailed Datasheet, PDF]
Features
Applications

Laser pulses shorter than 40 ps
Up to 3 W peak power for specific wavelengths
Proprietary high-frequency design for the shortest & highest peak power laser diode pulses available on the market
Collimated output with spatial filtering
Exchangeable laser heads with different wavelengths for greatest flexibility
Proprietary laser diode driver generating picosecond high-current pulses
Built-in Direct Digital Synthesis (DDS) frequency generator for repetition rate adjustment up to 20 MHz with steps of 0.1 Hz (optional 40 MHz & 80 MHz)
External TTL trigger capability and synchronized TTL output
Optional fiber coupling

Fluorescence lifetime measurements
Pump-probe experiments
Photodetectors & optoelectronics time response measurements
Optical Time Domain Reflectometry (OTDR)
Seeding of fiber lasers
Optical tomography
3D imaging
3D Imaging Application Example
A very interesting 3D imaging application using our PICOPOWER-LD™ picosecond diode laser has been published by Stanford University. For more information please refer to the Stanford Computational Imaging Lab website and this article published in Nature .
Here is also a video published on Stanford Computational Imaging Lab's Youtube channel: